Glenn Landon 1/30/1923 - 1/27/2014
Glenn Landon, 90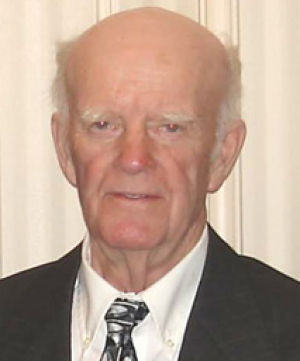 Glenn Annisfor Landon, 90, died Monday morning, Jan. 27, 2014, at Copper Ridge Health and Rehab Center after living a long, full life, surrounded by loving family.
He was born in Manitoba, Mich., on Jan. 30, 1923, to Royal and Margret Landon. On May 15, 1946, he married the love of his life, Dorothy Pacheco Landon in Butte.
Glenn will be remembered as a man of many talents who possessed a great sense of humor. He was a hardworking electrician who mastered many crafts with artistic brilliance. He loved the outdoors, and was an avid fisherman. He enjoyed playing 8-ball and was sure to put a smile on your face with his unending litany of jokes. Glenn loved his family, in his latter years gave his life to the Lord and is now at peace with him.
Glenn is survived by his daughter and son-in-law, Glenda and Don Williamson, Nuevo, Calif.; son and daughter-in-law, Wayne and Sandy Landon, San Diego; granddaughter, Sonja Brekhus, Butte, and her daughters, Jerry and Michael; grandson, Dane Brekhus, Bozeman; granddaughter, Bree Williamson and her three children, Skylar, Molly, and Luke Williamson; grandson, Ben Williamson; granddaughter, Michelle Watson and her boys, Joshua and Jonathan; granddaughter, Katrina Watson; and great-grandchildren, Julia and Jisselle Ragno. He was the beloved Uncle Glenn to numerous nieces and nephews.
He was preceded in death by his parents and his brothers, Morris, Garth, Sam, and Arnold, and granddaughter, Alexandra Rabassa.
Cremation has taken place. Liturgy of the Resurrection will be celebrated in July at St. Ann's Catholic Church at a date and time to be announced.
Memorials may be made to St. Ann's Catholic Church.
Express condolences at www.mtstandards.com/obits.