Charles H. Eickmeyer -7/12/2015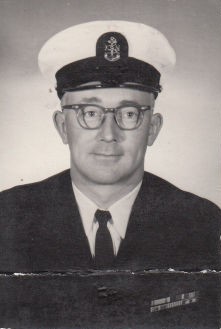 Charles H. Eickmeyer went to be with the Lord on July 12, 2015, after an extended illness.
He was a career man with the Navy. His military years started early on with National Guard and soon extended into Navy life.
The most outstanding time frame was when he was accepted for Nuclear Training Schools. He had a growing family and so we were brought to Montana and lived with his parents. He started classes in Vallejo, CA. in late 1958. There were six months of intense study in this school and from there he went to Idaho Falls. (Steve was born there 4/24/60).
The school which was equal to four years of college was a heavy load so time on the job was double duty. Because the goal at the end result was USS Enterprise, Air Craft Carrier, there was and probably still is a "Mock" Enterprise ship constructed outside of Arco, Idaho in the desert.
By the summer of 1960 our family traveled to Montana on leave and then to Newport News, Virginia. This is where the giant carrier was constructed and commissioned. He was part of the pioneer crew and the "high light" of that duty station was the Round the World cruise. Newport News and Norfolk, VA. were home till 1965.
In the summer of 1965 we transferred to Great Lakes, Illinois. This school was on Navy Training Center "Charlie" was the superintendent for the Electricians School on this base. Illinois was home until late 1967--from there back to San Diego. By 1969 he was able to retire (age 39) as a Master Chief Electrician. This major part of his life changed but he went on in civilian life to work as a Master Electrician and also a Business Manager for Electrical Union in Helena, Montana.
He was preceded in death by his parents Henry and Blanche; a daughter, Diane in 2008 and most likely a son, Michael. He had been out of his life for years.
He is survived by sons, Patrick Alan and Steven Henry; numerous grandchildren and great grandchildren and wife Phyllis.
No services are set.