Jason J. Silver - 4/29/1978-1/9/2017
Jason J. Silver, 38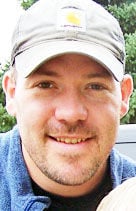 Beloved husband, father, son, and brother Jason James Silver passed away early Monday morning, Jan. 9, 2017, at his home in Butte. Jason made the whole world brighter just by entering a room. His wit, random comments, and creative antics would leave everyone laughing; anyone who knew Jason had a "Jason story." Above all else he was a loving father, devoted husband, and loyal son who adored spending time with his family.
He was born in Butte, April 29, 1978 to James and Debbie (Campbell) Silver.
He attended Butte schools and graduated from Butte High School (1996). Jason earned his electrician's license in 2014, finishing at the top of his class. He most recently worked for Arc Electric.
Jason married Lindsay (Wickman) in Missoula on Sept. 30, 2006. Along with his beloved wife Lindsay, Jason is survived by his sons, Calian and Kade; his mother, Debbie (Harvey) Howe of Butte; father, James (Jim) Silver of Butte; brothers, Jeff Silver of Washington, and Kyle Silver of New York; mother-in-law, Linda Greiner of Missoula; father-in-law, Daniel (Sheila) Wickman of Florida; sisters-in-law, Amy Wickman of Missoula, Meghan (Tom) McMackin of Oregon, and Danielle (Colby) Prosper of Missoula. Also surviving are his many nieces and nephews.
He was a passionate outdoorsman and enjoyed hunting, fishing, camping, boating, four-wheeling, and any outdoor activity; autumn was his favorite season. He participated in competitive arm wrestling in his youth. Jason was a member of the International Brotherhood of Electrical Workers, a lifetime member of the Rocky Mountain Elk Foundation, and belonged to the Public Lands and Water Association.
Cremation has taken place. Memorial services will be conducted at 11 a.m. Saturday, Jan. 14, at St. Ann's Catholic Church, 2100 Farragut Ave., with Father Tom Haffey officiating. Reception immediately following the service at Quarry Brewing. Memorials in memory of Jason may be made to the Silver family education fund at gofundme.com/ag_47.