John Joseph Jurcich Jr. November 26,1927 - October 28,2016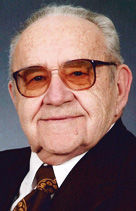 John Joseph Jurcich Jr., 88
Our Beloved Father, Grandfather, Great-Grandfather, Great-Great-Grandfather, Brother, Uncle and Cousin, John Joseph Jurcich, Jr., passed away peacefully on the evening of Oct. 28, 2016, at the age of 88.
John was born Nov. 26, 1927, in Bribir, Yugoslavia, to John (Shuster) and Milka (Ivankovich) Jurcich. At 18 months old he traveled with his parents to the United States. They made their home in Butte and later in Anaconda, where John attended Bryan School and Anaconda Junior High School.
John joined the Utah Army National Guard and served in post WWII Europe, he also served as an artilleryman during the war in Korea where he was engaged in heavy combat. He received the WWII Victory Medal, Army of Occupation Medal and Korean Service Medal.
After his military service, he worked as an electrician at the Anaconda Smelter until 1974. He continued his trade as an electrician at the Galen Hospital until his retirement in 1993.
He met and married the only love of his life, Mary Ann Herauf, in Anaconda, Montana, in 1953. Together they brought into this union eight children — Darlene, John III, Sharon, Dan, Debbie, Bobby, Betty, and Sandy.
John was an avid bowler at both Cedar Park Lanes and the Copper Bowl. He bowled competitively in leagues throughout his life, enjoying many years bowling with his good friends and his Father, Shuster, and many of his family. John was well known in the community for his friendly good nature.
John and his family spent many a weekends at the family cabin, Vekendica, at Silver Lake. There he helped his family create decades of wonderful family members.
He was a lifetime member of the IBEW, VFW, Knights of Columbus and the Croatian Fraternal Union. He and his late wife, Mary Ann, were caretakers for the Smelter City Senior Center and active members of the Metcalf Center.
John was preceded in death by his parents, Shuster and Milka; his wife, Mary Ann; daughter, Darlene and son-in-law, Terry Hager; and daughter, Debbie.
John is survived by his sister, Angela Blaz, sons: John III (Elaine Waymire), Dan (Deb Draper), Bobby (Kathy Sarno); daughters, Sharon (Mike Wren), Betty (Mike Stevenson), and Sandy; grandchildren, Ben (Jeannie) Hager, Bill Hager, Danielle Jurcich, Alicia Jurcich, Stacy (Scott) Hutchinson, Joelyn (Gustav) Trost, Jamie (Peter Carlile) Jurcich, DJ (Courtney) Prosenick, Jenni (Phil) Sundberg, Colton Jurcich, Camryn Jurcich, Alan (Nicole) Stevenson, Shawn (Amber) Stevenson, Natasha (Travis) Crist, Cody (Katie) Lemm; great-grandchildren, Danica, Nathan, Ashton, Ryan, Sydney, Piper, Finley, Teryn, Kalie, Austin, Seth, Jack, Olivia, Anna, Nathan, Daniel, Boston, Gracie, Madison, Annabell, Ella, Christian, Calista, Carson, Cameron, Cossette, Cuade, Calais, Samuel, Thomas, Janie, Joshua, Rachel, Hannah, Adam, Caleb, Leandra, Landyn, Owen, Griffin, Brody, Aryahna, Baylee, Angel, and Carson; great-great-granddaughter, Emma; and numerous nieces, nephews and cousins.
Memorials may be made to American Diabetes Association, American Cancer Society or donor's choice.
Longfellow Finnegan Riddle Funeral and Cremation Service will be entrusted with all arrangements with a visitation from 6 to 8 p.m. Friday, Nov. 4, and funeral services at 10 a.m. Saturday, Nov. 5, both at the funeral home, followed by burial at Mount Olivet Cemetery and a luncheon following at the Croatian Hall at 816 E. 3rd St.